In Florida, it's always arts season.
Today we suggest the cultural attractions in Florida, performers and places that distinguish the state and contribute to its cultural identity.
New World Symphony
New World Symphony, the country's orchestral academy, is a musical instruction group for young musicians created in 1987. Its headquarters is the New World Center in Miami Beach, designed by architect Frank Gehry. It presents an innovative program between the months of September and May and includes free screenings on an exterior wall of the building.
Miami City Ballet
Miami City Ballet, a globally recognized company with more than 45 dancers, was created in 1985 and has an impressive repertoire of almost 100 ballets. The company frequently dedicates the program to the work of George Balanchine but also includes world premieres and commissions by leading choreographers such as Twyla Tharp, Alexei Ratmansky and Liam Scarlett.
Art Basel Miami Beach
Art Basel Miami Beach is the quintessential international fair for modern and contemporary art in North America. It has been held at the Miami Beach Convention Center every December since 2001. It is the sister fair to the original Swiss Art Basel, with more than 250 galleries from 31 countries and an attendance of 50,000 people.
Design Miami, Art Basel's sister fair officially since 2004, is one of the 20 satellite fairs generated by Art Basel Miami Beach. Celebrate global design and highlight 20th and 21st century furnishings, lights and objets d'art under a marquee adjacent to the convention center.
Seraphic Fire
Seraphic Fire, one of the country's preeminent chamber music choirs and ensembles, offers repertoires ranging from Gregorian chants to masterpieces from the Baroque, Mahler and newly commissioned works from the country's leading composers. A two-time Grammy Award nominee, the Miami choir tours different parts of the country and performs in churches and concert halls in Miami, Fort Lauderdale, and sometimes Naples.
Art Center South Florida
Art Center South Florida is a creative teaching cultural center in Miami Beach that offers artists residency programs. It has hosted free exhibitions by more than 1,000 fine artists since it opened in 1984. Its initial investment in a crumbling building on now-burgeoning Lincoln Road has secured the financial future of the center that operates at 924 Lincoln Road.
Fairchild Tropical Botanic Garden
Fairchild Tropical Botanic Garden, a one-of-a-kind botanical garden located on 83 acres in Coral Gables, has maintained and displayed since 1938 a vast collection of endangered native Florida tropical fruits, orchids and plants. The gardens are turned into live art spaces each December with exhibitions from artists such as Mark Dion, Roy Lichtenstein, Fernando Botero, and Dale Chihuly.
Adrienne Arsht Center for the Performing Arts
Adrienne Arsht Center for the Performing Arts of Miami-Dade County, which opened in 2006, brings Broadway, jazz, gospel, regional theater, dance, flamenco, classical music, and other world-class performances year round to its campus. Designed by César Pelli. It is also where the resident companies New World Symphony, Miami City Ballet and Florida Grand Opera perform, as well as The Cleveland Orchestra, which makes its winter season here. A downtown restaurant, a bookstore with a café, and a weekly farmers market have brought this once depressed area of ​​downtown Miami back to life.
The Ringling Museum of Art
The Ringling Museum of Art and the historic Asolo Theater, a reconstructed 500-seat 18th century Italian-style opera house on the Ringling campus, offers a prestigious series of live music, theater and dance each season.
"Standing in the courtyard of the Ringling Museum surrounded by the pink marble with the sun setting over the statue of David is one of those magical moments in Florida."
Wynwood Walls
Wynwood Walls, an outdoor tribute to some of the world's most famous street and graffiti artists, transformed the Wynwood Warehouse District in 2009 when builder and arts visionary Tony Goldman commissioned artists to paint the warehouses for outside. Galleries, restaurants and the public followed in their footsteps. More than 50 artists representing 16 countries, including Kenny Scharf, Shepard Fairey, and Aiko, have painted some 80,000 square feet of walls.
Opera Tampa
Opera Tampa, which made its debut in 1996 with "Madama Butterfly," produces full operas every year with international performers accompanied by the Tampa Opera Orchestra and the 50-piece Tampa Opera Chorus. A resident company of the Straz Center, the opera also hosts the Florida Opera Festival, a series of opera and opera-related concerts and events, including guest appearances such as crossover classic vocalist Katherine Jenkins, which draws opera beginners and enthusiasts alike; the season runs from November to April.
Bok Tower Gardens
Bok Tower Gardens, a National Historic Landmark that has been part of the Central Florida landscape since 1929, features beautiful gardens, a music tower featuring a 60-bell carillon, and a magnificent 1930s Mediterranean-style mansion in the Lake Wales. Built on one of the highest points in the state, the 205-foot-tall tower made of marble and coquina stone performs daily recitals, plus live carillon concerts from mid-October to mid-May.
Gasparilla Festival of the Arts
Gasparilla Festival of the Arts, held the first weekend in March, features 300 of the world's most talented artists chosen by judges to transform downtown Tampa into an open-air museum. The festival, which began in 1970, attracts more than 250,000 people each year and showcases ceramics, digital art, drawings, fiber and glass art, jewelry, mixed media, paintings, photography, prints, sculptures, watercolors and wooden objects., plus live entertainment, kid-friendly activities, and food vendors.
Sarasota Ballet
Sarasota Ballet, established in 1990, has gained a national and international profile thanks to the classical works it offers by George Balanchine, Antony Tudor and Agnes de Mille, as well as more contemporary works by Twyla Tharp, Matthew Bourne and Christopher Wheeldon. The company has established its reputation for being the leading exponent of choreography by English master Frederick Ashton, with the first festival of its kind dedicated to his work in 2004; every year he mounts his ballets. Sarasota is called Florida's Cultural Coast.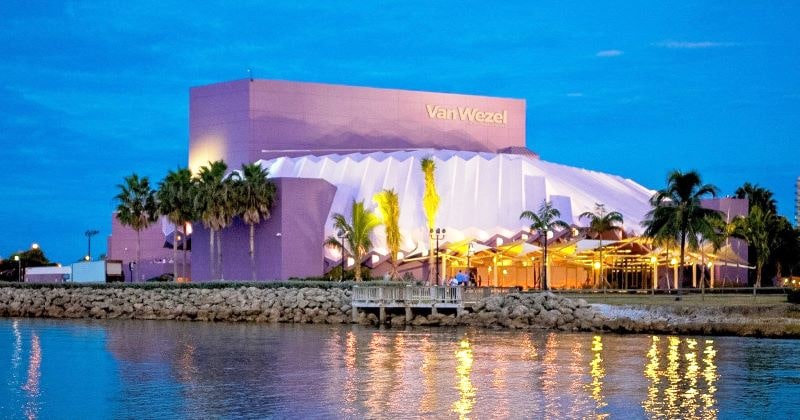 The Van Wezel Performing Arts Hall
The Van Wezel Performing Arts Hall is a 1,736-seat Frank Lloyd Wright Foundation theater built on Sarasota Bay in 1968. It features concerts of classical and modern music, dance, jazz, comedy and Broadway plays.
Sarasota Orchestra, the oldest in the state founded in 1949, is an 80-piece orchestra that offers more than 100 classical, pop and family concerts in four rooms in Sarasota and Bradenton.
Sarasota Orchestra
Performing in a renovated 1926 theater, Sarasota Opera stages entire operas during its fall and winter season. The company is known in particular for its timeless cycle of Verdi operas, an initiative to stage all of Giuseppe Verdi's works. It also offers a series dedicated to little-known works with artistic merit, such as Alfredo Catalani's "La Wally", and an initiative to produce each season an opera of New American classics composed by an American composer.
Selby Botanical Gardens
Selby Botanical Gardens, home to the most diverse collection of bromeliads in the world. It occupies seven acres across Sarasota Bay with rotating exhibits, art installations and events such as "Live Sculptures: The Art of Epiphytes" and "Shakespeare in the Gardens."
Green Parrot Bar
Green Parrot Bar, an institution in Key West since 1890, is a bar with a jukebox and live music on weekends. It is not just "one of the best taverns in the country, but a cultural institution. Parrot is the most eclectic and lively thing in South Florida, and it's THE meeting place for artists and artisans."
Tropic Cinema
Tropic Cinema is a retro-style cinema in Key West with three theaters where conventional films and independent films are shown and where cultural events and talks are also held. "Brilliantly programmed and efficiently and courteously run by legions of volunteers, Tropic is a moviegoers' paradise."
Sarasota Music Festival
Sarasota Music Festival, a classical music festival sponsored by the Sarasota Orchestra, "brings famous musicians from around the world each June for three weeks of great chamber music concerts and also maintains a teaching institute for students from the best conservatories in USA."